Folkmanis® Puppets in the Community
Folkmanis, Inc., believes that toys and puppets are crucial for a healthy childhood and development.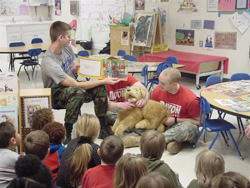 Folkmanis donates puppets around the world, to be distributed among refugees, orphans and social workers. Domestically, Folkmanis is a regular benefactor to various children's welfare organizations: K.I.D.S., Kids Wish Network, Lekotek, Blind Babies Foundation, Indian Reservations, Children's Hospitals, Hospices and Shelters, Libraries, Schools, Zoos, Museums, and Wildlife Welfare Organizations.
To read about some of the organizations to which Folkmanis has donated puppets, click on the links to the left.