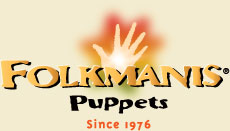 About Folkmanis
Folkmanis® Puppets in the Media
Folkmanis® on TV
Folkmanis® Puppets have appeared on the following TV Shows: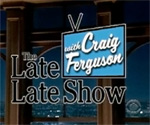 The Late Late Show with Craig Ferguson - Long Legged Monkey as Kronos King of the Monkeys, Also featured is our Crocodile Stage Puppet as Wavy, Shark Stage Puppet, the T-Rex Stage Puppet, the Unicorn Stage Puppet, Pig Stage Puppet, Rabbit Stage Puppet and the Lion Stage Puppet.Expect to see more Folkmanis Puppets on upcoming episodes! Read about Craig Ferguson and his puppets in this Movieline.com article.


The Colbert Report - Polar Bear Cub
NCIS - Hippo (As Bert the Farting Hippo.)
30 Rock - Peacock
Barney and Friends — various puppets
1999 Martin Short Show- various puppets
Raffi, Global Troubadour— Sheepdog
David Letterman — Cockroach
The Rosie O'Donnell Show — Yellow Lab
Folkmanis® in the Movies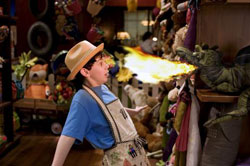 The Folkmanis Sea Serpent puppet breathing fire in Mr. Magorium's Wonder Emporium. Click the image to see more photos.
Folkmanis® Puppets are featured in the family film Mr. Magorium's Wonder Emporium from Walden Media and Mandate Pictures. Starring Dustin Hoffman, Natalie Portman and Jason Bateman, this film featured the Folkmanis® Sea Serpent, Mouse with Vest, Swan, and Jack Russell Terrier and Golden Retriever.
Other films featuring our puppets include:
Dorme -The 7-minute, visual lullaby film, Dorme, sweeps the audience away on a magical journey into the inner world of dreams, that mystical place our spirits go to play when our bodies sleep at night. (Click here to read more about Dorme.)
Roman Dreams (The Dream of the Romans, 2009?) Folkmanis® puppets as set decoration in child's room and school.
Things We Lost in the Fire (2007) - Folkmanis® puppets as set decoration in child's room, features the Tarantula on bedroom door and the Lion.
Good Luck Chuck (2007) - Featuring Folkmanis® Penguins.
Fred Claus (Holiday 2007 release)- Featuring lots of Folkmanis® Puppets in Santa's workshop.
The Last Mimzy (Spring 2007) Folkmanis® puppets as set decoration in child's room.
Phoebe in Wonderland (2008) Folkmanis® puppets as set decoration in child's room, features the Cheshire Cat puppet.
Flirting with Disaster (1996) - Toad Puppet in opening scene.
Ladybugs (1992)- Ladybug puppet.
Lawnmower Man (1992) -Bee Puppet.
If you are interested in using our puppets as props in your movie or TV show, please contact us or call our office. Our puppets aren't divas, they're very easy to work with and won't demand their own trailers or profit participation. They'll go light on the craft services - we promise!