Folkmanis® Puppets in the Community
Pet Orphans of Southern California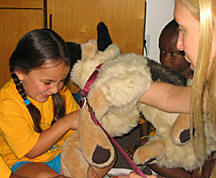 Since 1973, Pet Orphans of Southern California, a private non-profit animal shelter, has been rescuing homeless dogs and cats and placing them into new loving homes.
In addition to their rescue efforts, Pet Orphans Humane Education program encourages kindness, empathy and a respect for all living things. Their program reaches approximately 20,000 people per year, and consists of five different age-appropriate presentations, which are informative, fun and interactive. They teach responsible pet ownership, including spaying and neutering, the importance of regular medical care, and a lifetime commitment to that animal.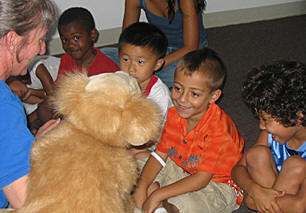 Also, since dog bites are the number one reason children under twelve visit the emergency room, the program teaches animal safety and dog bite prevention. The realistic Folkmanis puppets are instrumental in helping to teach the children how and when to safely approach a dog. The Golden Retriever puppet (Sebastian) and his German Shepherd partner (Zoe) let the children practice what they've learned. Sebastian and Zoe are truly loved by the students and receive a great deal of fan mail. The Humane Education program has received rave reviews from teachers, administrators, and local officials in the Los Angeles area. But the greatest compliment of all is seeing the smiling and attentive faces of the children when they "meet" and "practice" with their puppet teachers.
Pet Orphans of Southern California is located in Van Nuys, California. If you'd like more information about the program, please visit their website at www.petorphans.org and click on the Humane Education section.